Entertainment
Trending
Be Selective Of People You Follow On Social Media" Actress Damilola Adegbite Says
Be Selective Of People You Follow On Social Media" Actress Damilola Adegbite Says
Popular award-winning Nollywood actress, Damilola Adegbite, has come up with a food for thought which represents amazing advice to her fans which could go a long way in helping them to cope with how they make use of their social media accounts. She offered this word of advice on Instagram, where she revealed that her fans should be selective of the people they follow on their social media accounts if they are unable to handle certain behaviors themselves.
It is a wise decision for her to offer such thoughtful advice, knowing full well that there are many people out there who do not understand how to deal with social media situations and allow them to affect them in real life. She tagged the advice as a mental health tip where she advised her fans to be selective of the people they follow on social media if they have the tendency to get envious, dissatisfied, and depressed easily so as to avoid heartbreak on social media.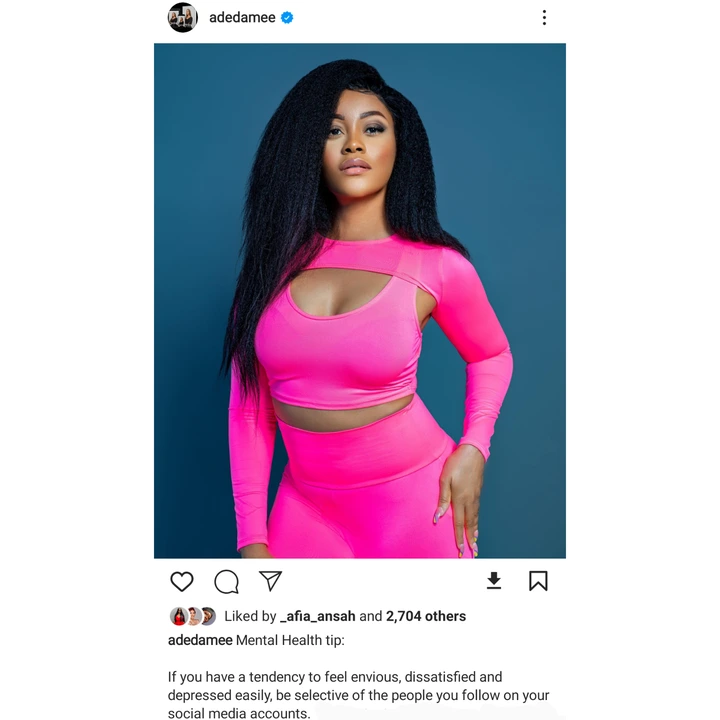 She also revealed that the contents we digest on a daily basis play a major role in how we feel about our looks and what goes on in our minds. She wrote a long caption to back up her advice. She said, "If you have a tendency to feel envious, dissatisfied, and depressed easily, be selective of the people you follow on your social media account."
This valuable advice, if strictly followed, will go a long way in assisting people to cope with the pressure and the controversies of social media channels, as it is only best to ditch social media if you know you are easily moved by what goes on around the people that you follow their accounts.