News
Trending
Nigerians react as man reveals his 5-year-old daughter called him by his name to get his attention
Nigerians react as man reveals his 5-year-old daughter called him by his name to get his attention
Massive reactions have trailed the tweet of a Nigerian man who disclosed that his 5-year-old daughter called him by his name to get his attention.
The man, identified as Andrew Daniels, had taken to micro-blogging platform, Twitter, to make this disclosure on Sunday, July 17.
According to him, his daughter called him by his name after he ignored her constant rambling about the things she wants.
He tweeted,
"My daughter na case. She was saying to me " daddy I want this, I want that" I ignored her and continued what I was doing. Next thing she shouted " Andrew are you not hearing me"?"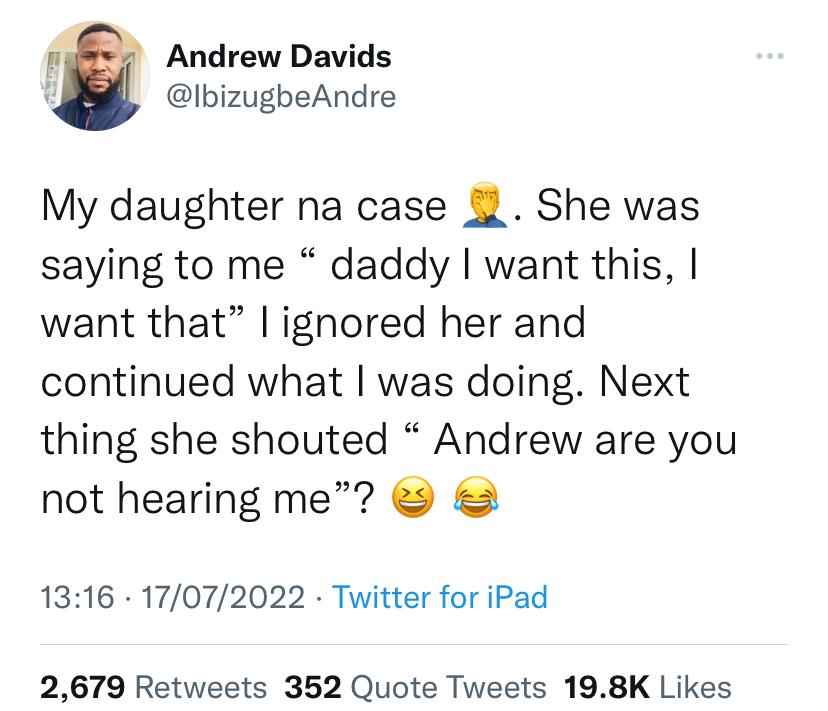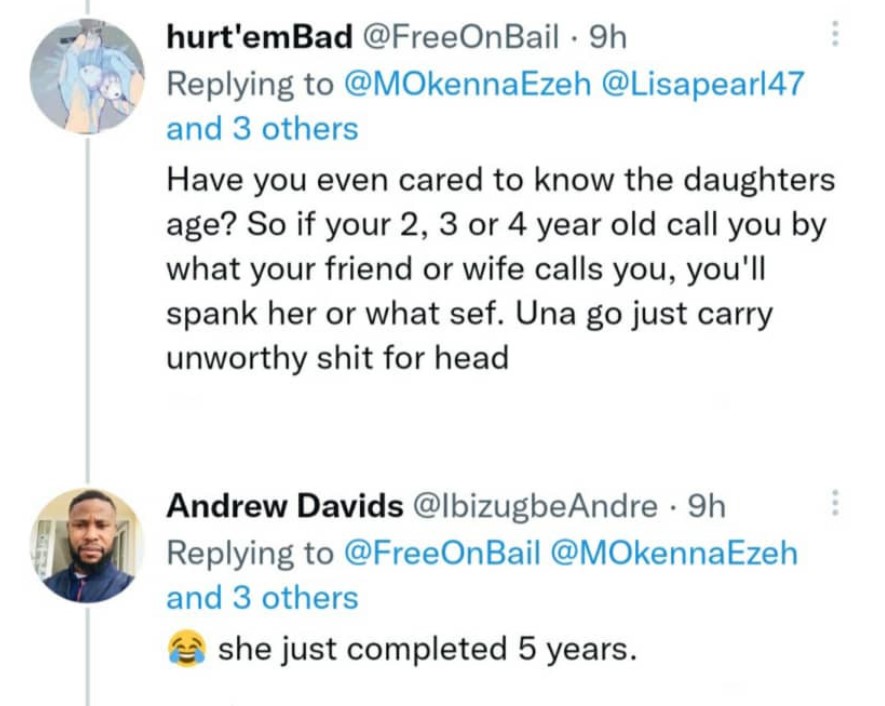 The tweet has garnered a lot of reactions from Nigerians who shared their two cents on his daughter's action.
While some kicked against the five-year-old calling her dad by his name, others stated that it's not a big deal.
See how some reacted below,
@jayogstruth wrote, "You no train her well Oga 😎✌🏼🕊"
@mrotd1 wrote, "It's all fun and games and twitter worthy until she becomes a teenager and it all turns sour and you're wondering where you got it wrong."
@michael0079 wrote, "Even my 3 years son call me by my name sometimes. Most of you saying sh!t have not even raise a hen talkless of raising a child."
@iamphaith06 wrote, "I've read comments and see how nobody's really seeing anything wrong about this, She probably heard it from an adult. And the Africa in me completely advices the need for a quick correction with understanding so she doesn't get used to it. You're good parent"
@segunefficient wrote, "Ur child will definitely call u by ur names in the first few years. If u and ur spouse cal each other by names, that's what ur child will call u. It is what the child hears that he/she will call. It's no big deal. They change later."
In response to his critics, the father wrote, " Funny thing be say na the ones wey never shit strong shit for the comment section dey advise me on how to raise children."